MAKO20SA Standalone Unit
Introducing the our best battlefield accessory, MAKO Standalone. Now you can add to your battlefield, bunkers, machine gun emplacements, panzerfaust/bazooka soldiers, even mines. MAKO20SA can be operated by remote control, trip switch or BOTH. Plus all cannon fire, explosion and user FX sounds are 100% user changeable and can be played back at DVD/CD quality. Fires and receives all Tamiya, RCTA (including Machinegun IR), Heng Long and taigen IR codes.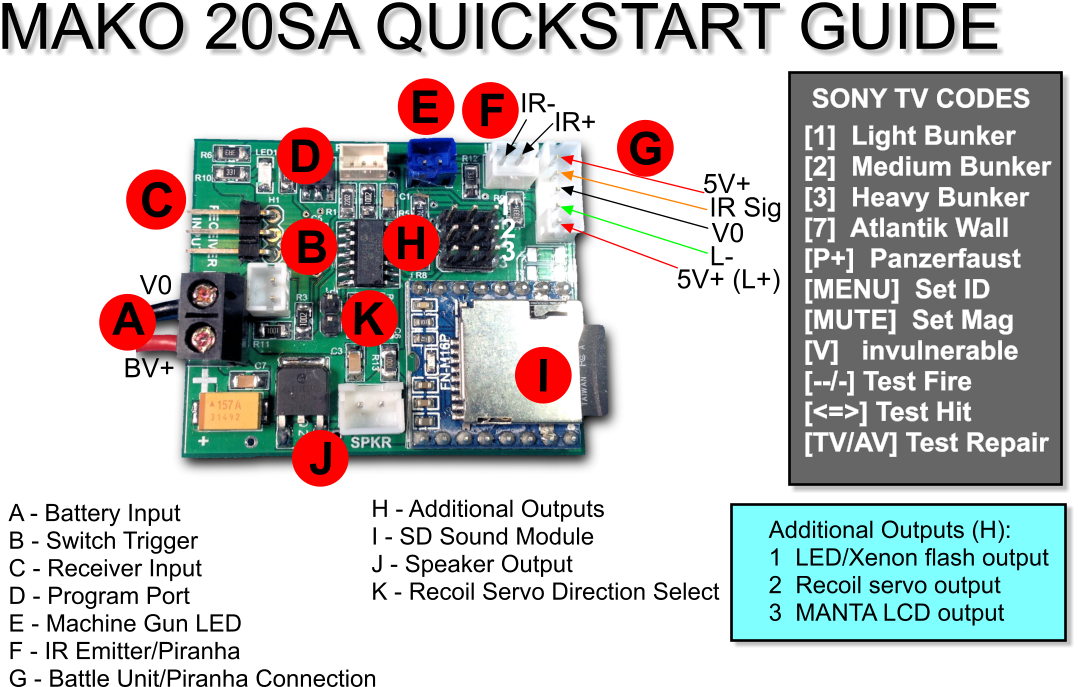 Sound Files:
To setup or edit the sound on your micro SD card for use with MAKO20SA you MUST follow these 3 simple instructions....
1.
Create your sound files and save them as either 44.1 K (CD quality) or 48K (DVD quality) .wav files
2.
Name each file per the file list below using 000, 001, 002, 003, etc as the prefix
3.
Create a folder named "01" on your SD card and put all of the files you with to use into that folder.
File List:
000_Start_NoReceiver
001_StartReceiver
002_UserSound
003_MainWeapon
004_MachinegunLoop
005_MachinegunEnd
006_ExplosionA
007_ExplosionB
008_FinalExplosion
009_MachinegunHits
010_RepairLoop
011_RepairEnd
012_FriendlyFire
013_NoAmmo
014_InfoRequest
If you want a set of example files then you can download below: