Converting a Heng Long Pz IV to a late model Brummbär Sd. Kfz. 166
-Repost from the old Hobby Havoc Forum-
I first got into this R/C tank thing barely two years ago. Back then there were a limited number of tank models and accessories available. If you wanted anything out of the ordinary you pretty much had to build it from scratch. However, in the past 24 months and particularly in the last 6 months there has been a virtual explosion in the tank models and accessories available.
To add to the increased variety of models now produced by Tamiya, Heng Long & Matorro there has been a corresponding increase in the number of resin conversion kits available. Two manufactures that have been very productive of late are Store-Juckenburg and Profiline. Both of these manufacturers have released in the past 6 months released Brummbär conversion kits for the Heng Long Panzer IV. The Profiline series of kits are marketed as limited edition kits and may not be around for long. Profiline currently offer an early/prototype Brummbär conversion kit for around the 129 Euro mark. Store Juckenburg offer a late version Brummbär kit for around 90 Euros.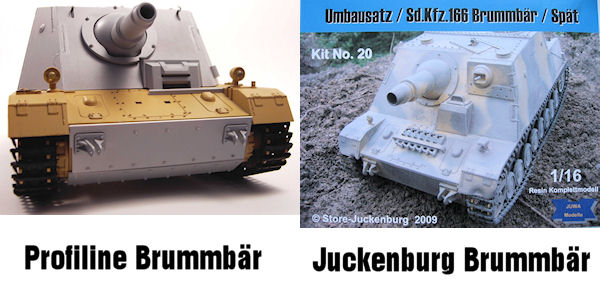 Being a Brummbär 'fan' I really wanted to build an R/C Brummbär. Having neither the skill nor patience to do a scratch build the only way the I could possibly have a R/C Brummbär was to buy a conversion kit, but which one? After much deliberation I chose Juckenburg's Kit. I chose this kit primarily because it models a late model Brummbär which gave me the options of adding zimmerit and schürzen. To me a Brummbär only lives up to it's 'grizzly bear' moniker if it has that haphazard coating of zimmerit and late schürzen design with those triangular hooks.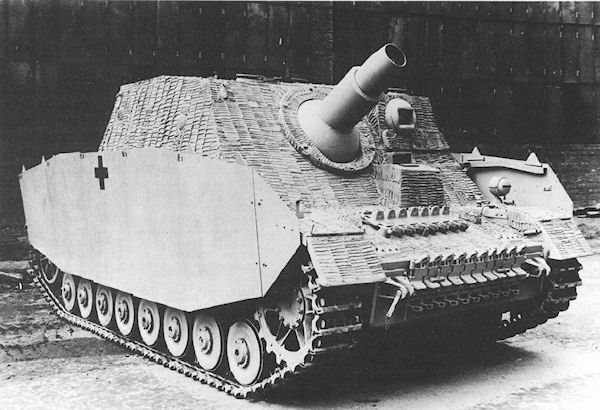 My only concern was at the time of purchase late version drive sprockets and idlers for the Heng Long Panzer IV were not available. Luckily for me this has changed and these are now available from Asiatam. So with decision made, payment and delivery complete lets see what's in the box.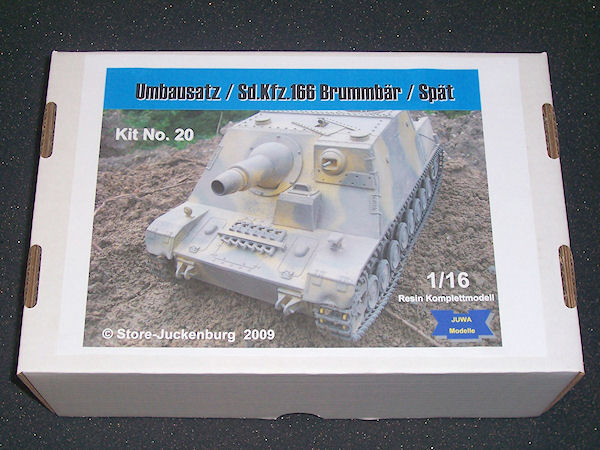 FIRST IMPRESSIONS
The kit comes in a sturdy box and is well packed. A set of instructional pictures are included. For those not familiar this is a resin kit and as such is quite different to the usual styrene model kits. Production of resin parts is a dark art and the process is not 100% reliable. Blemishes, usually caused by air bubbles are very common on resin parts whereas they are quite rare on styrene parts. Further, what is termed 'flash' on styrene parts is much more pronounced on resin parts. In fact in some cases there may be more 'flash' than part. With that in mind it was great to see all of the kit parts were for all purposes flawless.
There are 24 resin pieces in the kit and a short bit of brass wire to create a grab handle. The largest piece in the kit is the citadel which is well moulded with plenty of detail and very sturdy.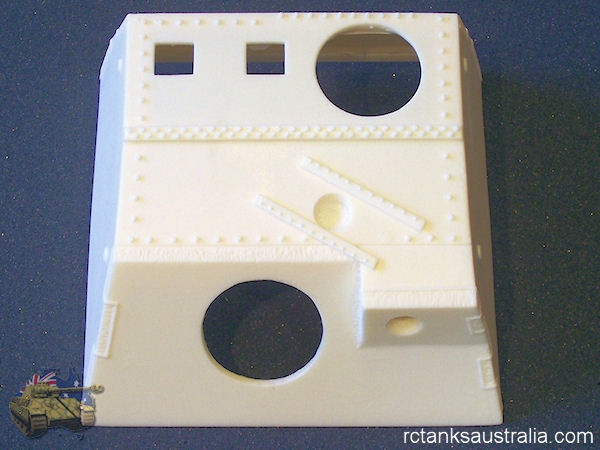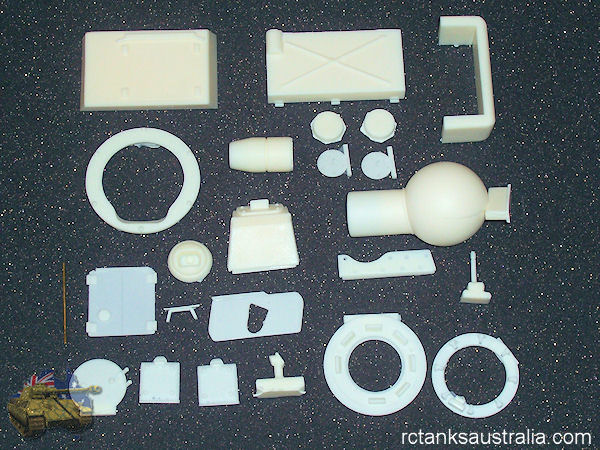 With so few pieces assembly both on paper and at first glance appears to be relatively simple (we shall see). Oddly, the notek light and horn shown in the instructions and on the front of the box are not included. This is of little consequence as most of the wartime pictures of late Brummbärs that I have seen depict neither. However, a notek light is present on the Brummbär on display at the Munster Museum. Wartime photos typically show a single Bosch headlight is located on the left front fender while the jacking block is on the right. Another feature oddly missing from the kit are the prominent citadel lifting hooks. I suspect producing these hooks in resin would be a waste of time as they would be too 'brittle' to be placed where they are. These hooks would have to be cast in a white metal to be functional on a R/C model.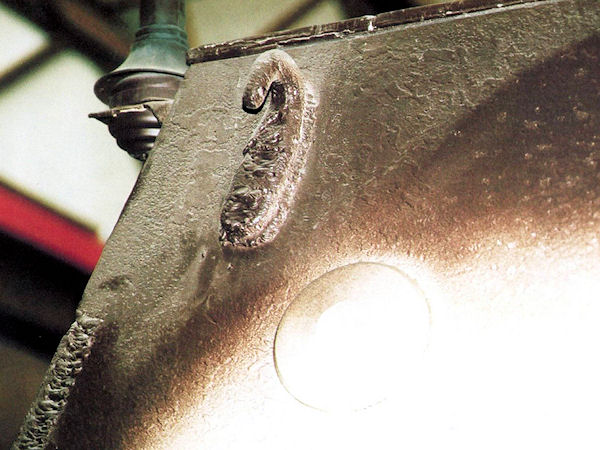 While on the subject of corrections, the back deck of the Heng Long Panzer IV is inaccurate (i.e. wrong). If you going to spend time, effort and money on converting a HL Pz IV to a Brummbär then you probably are going to want to correct the back deck as well. Store-Juckenburg produces a corrected Pz IV back deck. This deck matches beautifully with the Pz IV metal operating hatches available from Asiatam. However, this back deck is not included in the conversion kit. I would suggest that the corrected back deck is purchased at the same time as the kit along with the matching Asiatam hatches.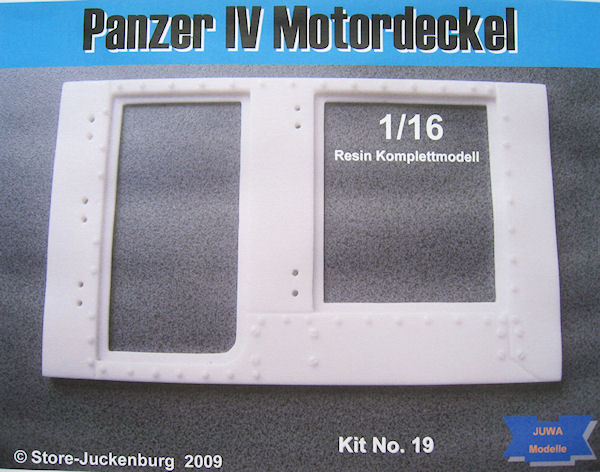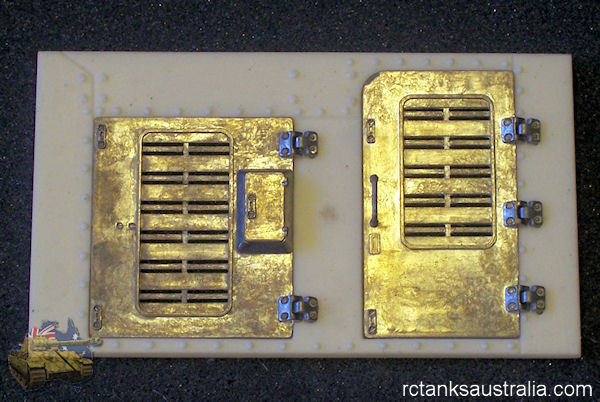 (seems I got the limited edition gold plated Asiatam hatches instead)
Finally, some comments on the gun. Without extensive modifications it is not easily attached to an elevation or recoil system. The barrel is not hollow and would need to be made so for the fitting of either a flash LED or IR LED. Tank-Modellbau offer an aluminum barrel for the late Brummbär. However, the product description is that it fits the Profiline kit. An attempt will be made during the build to hollow out the barrel and modify the gun assembly so that it may at least elevate. How easy this will be to do we shall see….
Next up….
STARTING THE BUILD